Decided to join Five Question Friday hosted by
My Little Life
. So here goes!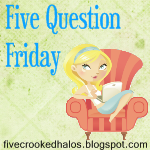 1. Do you collect anything?
I do. I collect dust on the shelves in my bedroom.
2. Name 3 celebrities that you find good looking.
1. McDreamy from Grey's Anatomy (Patrick Dempsey)
2. Matthew McConaughey (especially when he's eating crablegs in How to Lose a Guy in Ten Days -- Holy Cannoli that man is sexy when he eats!)
3. Agent Derek Morgan from Criminal Minds (Shemar Moore)
3. Do you have any scars? If so, what's the story behind it (them?)?
I have a line going across the tip of my middle finger. When I was a kid I was holding on to the top of a metal trash can...one of those steel drum-types...while going a round in a circle. Yea, that was dumb. I so needed stitches, but was having none of it.
4. What is a food that you like to eat, but others might think it's gross or weird?
Tofu. Since becoming a vegetarian, I've learned to really like the flavor and texture.
5. Have you ever seen a tornado in real life?
I so wish I could say yes, but unfortunately (or fortunately by some standards) I have not. I'm certain I'll be a storm chaser in another life.